Thinking of working remotely from an Airbnb? You aren't alone! The number one thing on your mind must be the internet speed. We've spoken to a handful of expert travelers to curate the best tips and tricks for finding a vacation rental with great internet!
1) Use Airbnb's "WiFi" filter
This may seem obvious, but still, all too often people forget to narrow their search down to listings that actually have WiFi before booking.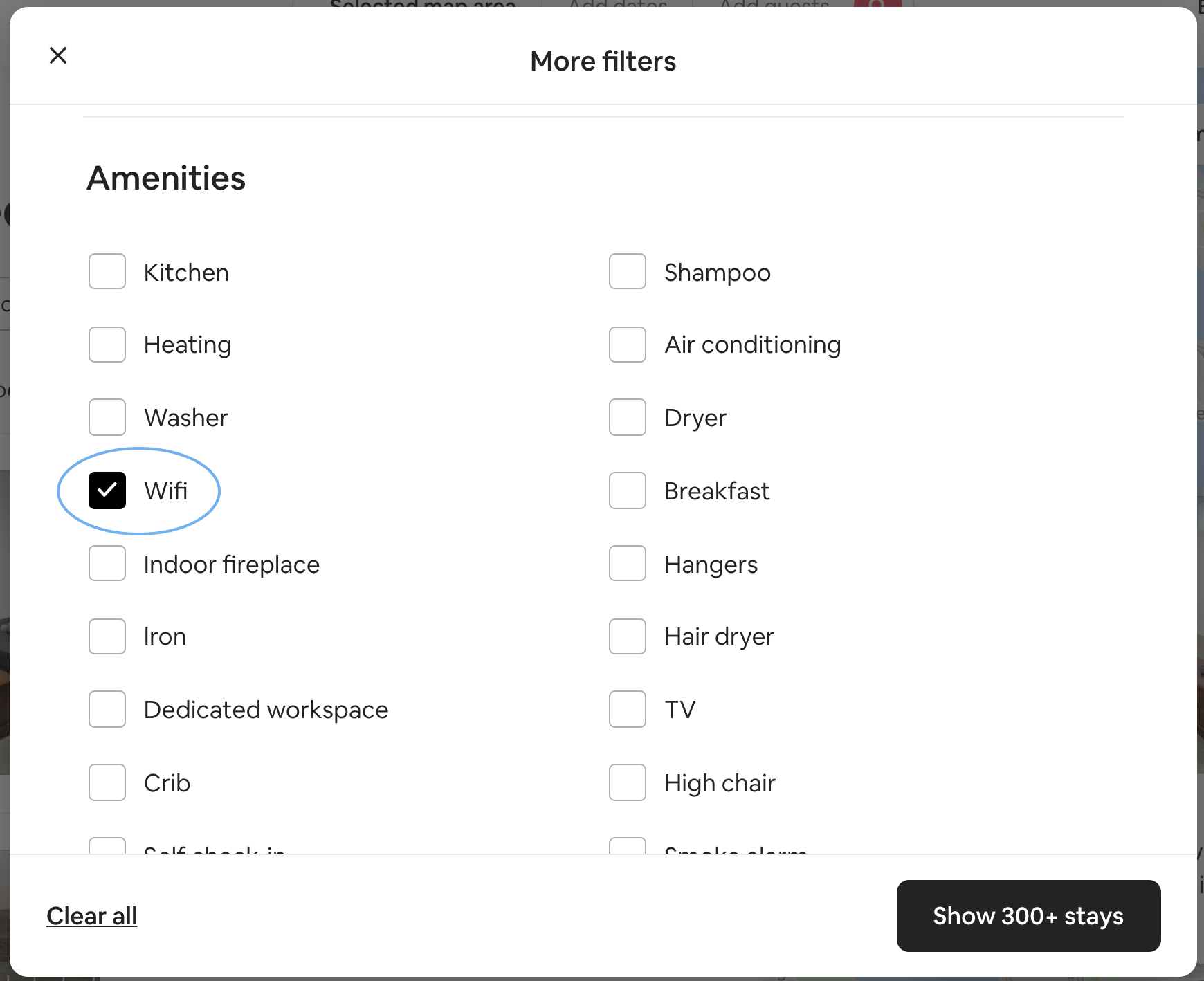 2) Check the Amenities section
A handful of hosts will list their download speed next to the WiFi icon in the amenities section. Most hosts don't post this information here because they are concerned that guests will leave them a poor review if they experience slower speeds than were advertised. Nonetheless, it's worth checking to see if your host was feeling generous!
3) Read the reviews
You can search for "WiFi" or "Internet" to filter down to the most relevant reviews. The thing to look out for here is that what one person considers "Fast" may still be too slow for your needs.
4) Geographically narrow your search
If you know you need 100 Mbps download and upload speeds, it's best not to waste time shopping for Airbnbs in a remote location like French Polynesia! You can use the Roamer chrome extension to see which Airbnb listings are in neighborhoods with fast internet.
5) Look for photos of speed tests
Some hosts will include a screenshot of a speed test as one of their listing photos.
6) Message the host
When all else fails, it's still best to send a message to the host and ask them to run a speed test. This is better than simply asking them "How's the internet?" because this tends to lead to vague replies like "None of the guests have complained!"
They won't be able to send a speed test screenshot to you (Airbnb blocks photos and links in messages), but you could ask them to type out the info or upload the speed test result as a listing photo.
In a recent test we conducted, roughly 50% of hosts were able to provide speed test metrics within 24 hours when asked about their listing's internet speeds. We recommend sending a message like the following:
Hi!
I'm considering working remotely from your listing. Could you please run an internet speed test from the listing and send me the following metrics?
Mbps Download, Mbps Upload, & MS Latency
Thank you!
7) Try before you buy
Consider renting an Airbnb for only a few days to begin your trip. If you like the place, you can discuss staying longer with the host. Or you can use the site as a home base while you explore other apartments and Airbnbs in the area.
Have another tip or idea not listed here? Please email us at info@tryroamer.com